sel fest
What is Social Emotional Learning?
SEL is the process through which all young people and adults acquire and apply the knowledge, skills, and attitudes to develop healthy identities, manage emotions and achieve personal and collective goals, feel and show empathy for others, establish and maintain supportive relationships, and make responsible and caring decisions.
Download Brochure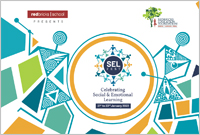 How to Register
MODE OF SESSIONS AND CAPACITY:
| | |
| --- | --- |
| • | All the webinars and workshops will be conducted virtually through the Zoom Platform. |
| • | All the workshops have limited capacity and require prior registration. Seats will be allotted on a first come, first serve basis. |
| • | Webinars don't have a capacity limit and will also be showcased live on the Redbricks Facebook page. |
TO REGISTER:
| | |
| --- | --- |
| • | Participants need to register online for attending all webinars and workshops. There is no cost for attending these sessions. |
| • | A separate form needs to be filled for every participant. Multiple participants cannot register through one form. |
| • | For the workshops: Once you have submitted the form, we will inform you of your workshop participation confirmation latest by 15th January 2022. If confirmed, you will receive an email with the login details for the respective activity. |
| • | For the webinars: Once you have submitted your form, your participation is confirmed and we will email you the Zoom login details in advance of the event. |
| • | For the Interschool activity: Students need to register as teams through their respective schools. If parents are keen on enrolling their child, they can contact their school or us at selfest@redbrickseducation.org with the child's school name for further assistance. |
Please click on the form links (see below) or scan the QR code given for registering yourself for webinars/workshops.
Registration form for Schools for the Inter-school Activity (students can register only through their schools for this activity) https://forms.gle/wCW7AWQPFtT7Lsq18
If you need any assistance with Registering, then please write an email to selfest@redbrickseducation.org
Share your SEL Voice on this Padlet Wall (for Parents and Educators): SEL Voices